Agnieszka Holland - filmmaker | Festival Guest of Honor.
In attendance: Opening Night - November 1 ("Mr. Jones") and AFS Retrospective Oct.ober30 ("Europa, Europa")
director and screenwriter born in Warsaw, Poland graduated from the FAMU film school in Prague. She began her career assisting Krzysztof Zanussi and Andrzej Wajda, collaborated with Krzysztof Kieślowski on the screenplay of Three Colors. Her filmography consists of over 30 films. In addition to her film credits, Holland has directed episodes of acclaimed TV series such as The Wire, Treme, The Killing, and House of Cards.
Her film awards include the Golden Globe, International Critics Prize in Cannes, a Berlinale Silver Bear, nominations for a BAFTA and an Emmy. Her films In Darkness (2012), Europa, Europa (1990) and Angry Harvest (1985) were all nominated for an Academy Award. In the United States, she is also known for Warner Bros. films: "Olivier, Olivier" or the "The Secret Garden". In 1996 she has directed "Washington Square", starring Jennifer Jason Leigh and Albert Finney. In 2019, her latest film Mr. Jones won the Golden Lions Award for the best film at the Gdynia Film Festival.
Elected chair of the European Film Academy in 2014, Holland became the first woman to hold this position.
We are honored to open the 14th Austin Polish Film Festival with Agnieszka Holland's latest film Mr. Jones with her in attendance.
Olga Chajdas - film director
In attendance: Sunday, November 3 - Q&A after "Nina"
was born in 1983 in Poznan, Poland. She graduated in Film Production from the Lodz Film School. In 2009 she completed courses at Andrzej Wajda's School of Film Directing. Olga started as a Director's assistant, then 2nd and 1st AD on numerous feature films and TV series (Among them: Oscar nominated IN DARKNESS and MR. JONES by Agnieszka Holland). She directed for theatre (Edward Albee's "The goat or who is Sylvia", Tuvia Tenenbom's "The Last Jew in Europe" etc.), award winning television series ("The Deep End") and recently short films - 3xLOVE won Grand Prix at "Distances" Short Film Festival in Dublin and MORNING HAS BROKEN (premiered in Raindance Festival 2017). NINA is Olga's full-length feature debut. It premiered at IFFR 2018, winning the Big Screen Award. We are looking forward to presenting this film at the APFF and to a discussion afterwards with Olga.
Magdalena Łazarkiewicz - film director
In attendance: Saturday, November 9 - Q&A after "Back Home"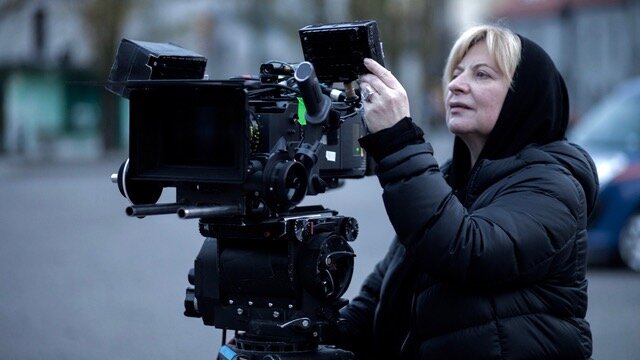 is a screenwriter and film director. She graduated from the University of Wrocław in 1976, majoring in Cultural Studies,. In the years 1977-1978 she worked as a literary director in Stefan Jaracz Theatre in Olsztyn. In 1982, she graduated from the Radio and Television Faculty at the University of Silesia in Katowice, where she majored in Film Directing. In the years 2005-2006 she worked as the artistic director of New Theatre Praga in Warsaw. Starting from 2006, she has been working as a lecturer at the Warsaw Film School and MultiArt Academy in Cracow. During her film studies she worked as an assistant to Andrzej Wajda and made her film DEBIUT under the patronage of her professor Krzysztof Kieslowski. She has been since drawn to various social topics. Since 2011 she has been artistic director of IFF "Jewish Motives" in Warsaw. She won the Grand Prix at the 1986 Creteil International Women's Film Festival for BY TOUCH (Przez dotyk) and special Jury Prize at the 1992 Gdynia Polish Film Festival for DEPARTURE (Odjazd) shared with her husband Piotr Lazarkiewicz.
Mariola Wiktor - festival MC (Nov 1 - 10)
Film critic and journalist.
is a Polish film critic and journalist, member of FIPRESCI (The International Federation of Film Critics) and a guest lecturer at the Wajda Film School. Graduate of Polish Philology and Cultural Studies at the University of Lodz, she is a holder of a journalism scholarship at the Wolfson College in Cambridge UK and the author of the cultural TV program "Kram z Muzami" for Polvision in Chicago. Mariola writes on film for such media outlets as "Magazyn Filmowy", "Film&TV Kamera", "Kino","Gazeta Wyborcza", "Dziennik.pl", "Zwierciadlo", "Harper's Bazaar", "Sens". For many years now she has been reporting on film festivals and interviewing film personalities in Berlin, Cannes, Karlovy Vary, Venice, or Gdynia. In 2004 she organized the 3rd Polish Film Festival in London for the Polish Culture Institute and every year between 2009-2015 she was artistic and program director of the Forum of European Cinema "Cinergia" in Lodz, Poland. She is FIPRESCI jury member, festival's consultant and panelist. In 2017, she was a professional mentor of Student Critics Training Programme during Edinburgh International Film Festival. Currently, Mariola works as a film programmer and coordinator in the Academic Center for Artistic Initiatives, AOIA , in Lodz, Poland. She develops the "V4 Discoveries. A review of genre cinema of the Visegrad countries" project