A warm tale about family relationships. A bitter-sweet story of two sisters who have to join forces despite their mutual dislike when faced with a difficult life situation. Marta is successful. She's a renowned actress, a star of popular series. In spite of her fame and money she still can't find her way in life. She raised her now already grown up daughter on her own. In contrast to her strong and dominating elder sister, Kasia is sensitive and has a tendency towards exaltation. She works as a teacher. Her marriage is far from perfect, her husband is a loser constantly trying to find a job. There's no great love between the sisters but their mother's sudden illness forces them to act together. They have to take care of their beloved but despotic father. Marta and Kasia gradually become closer to each other and regain their lost relationship, which gives rise to a series of tragicomic situations.
Director / Reżyseria: Kinga Dębska
Writers / Scenariusz: Kinga Dębska
Cast / Obsada: Agata Kulesza, Gabriela Muskała, Marian Dziędziel, Małgorzata Niemirska, Marcin Dorociński, Łukasz Simlat, Jeremi Protas, Maria Dębska
Duration / Czas trwania: 88 min
Chemo is inspired by the true story of Magdalena Prokopowicz, founder of the Rak'n'Roll foundation. A 30-year-old Benek is going through a crisis with its main symptom being persistent suicidal thoughts. Benek is convinced that he's not able to love, build long-lasting relations with people or "live for real". After yet another failed suicide attempt, by coincidence he meets a beautiful, attractive and eloquent Lena. From the very first moment he's dazzled by her and his admiration for her grows once he learns that Lena approves of his suicidal inclinations and even shares them. She suggests a few weeks of "real life" followed by bidding farewell to the world together. They set off on a romantic journey during which Benek gets to know that there is someone else in Lena's life... the Tumor.
Director / Reżyseria: Bartosz Prokopowicz
Writers / Scenariusz: Bartosz Prokopowicz, Katarzyna Sarnowska
Cast / Obsada: Agnieszka Żulewska, Tomasz Schuchardt, Danuta Stenka, Anita Jancia, Eryk Lubos, Anna Cieślak, Mirosław Baka, Tomasz Sapryk, Bartosz Porczyk
Duration / Czas trwania: 95 min
Ania (Agnieszka Więdłocha) is charming, romantic, though not too self-confident teacher who is looking for her ideal man on internet dating sites. On Valentine's evening, she happens to meet Tomek (Maciej Stuhr) who hosts the most popular and controversial TV show in the country. Admiring her innocent romanticism, the showman offers her to become a heroine of his program. She will make dates online and he will reveal true faces of the men flirting in the net and ridicule of these naive women who seek their princes online. Ania's crazy dating adventures turn out to be a great instant hit, however one day Ania unexpectedly encounters her ideal boyfriend Antoni (Michał Czernecki).
Director / Reżyseria: Mitja Okorn
Writers / Scenariusz: Sam Akina, Jules Jones, Mitja Okorn, Łukasz Światowiec, Michał Chaciński
Cast / Obsada: Maciej Stuhr, Agnieszka Więdłocha, Piotr Głowacki, Weronika Książkiewicz, Tomasz Karolak, Joanna Jarmołowicz, Ewa Błaszczyk, Michał Czernecki
Duration / Czas trwania: 136 min
April 2004, Iraq. On the Day of Ashura the militia of the Shiite cleric Muktada As-Sadr, supported by the jihadists, start an uprising in the Polish stabilization zone. The US command orders the Poles to hold the City Hall, the seat of the local authorities and police, loyal to the stabilization forces.
Captain Kalicki's reconnaissance company takes over recruits from the country, paramedic Kamil Grad among them. On the way to the base the company enters into an ambush. At Kalicki's request Kamil is accused of failure to render aid to a wounded comrade during the action and is transferred to the City Hall for questioning. On the next day Kalicki's company arrives at the City Hall with the task of holding the building for the first 24 hours.
Kalicki, his soldiers and Kamil, cut off from the world in rebellion-striken Karbala, will take part in the largest battle that Polish soldiers have fought since World War II.
Director / Reżyseria: Krzysztof Łukaszewicz
Writer / Scenariusz: Krzysztof Łukaszewicz
Cast / Obsada: Bartłomiej Topa, Antoni Królikowski, Hristo Shopov, Atheer Adel, Leszek Lichota, Michał Żurawski, Tomasz Schuchardt, Zbigniew Stryj
Duration / Czas trwania: 115 min
A jealous husband out of control, his sexy actress wife, a sleazy Hollywood director, a reckless drug messenger, a disoriented young woman, an ex­-con hot dog vendor, a troubled student on a mysterious mission, a high­-rise window cleaner on an illicit break, an elderly sketch artist, a hectic paramedics team and a group of hungry nuns.
A cross-section of contemporary urbanites whose lives and loves intertwine. They live in an unsure world where anything could happen at any time. An unexpected chain of events can seal many fates in a mere 11 minutes.
Director / Reżyseria: Jerzy Skolimowski
Writer / Scenariusz: Jerzy Skolimowski
Cast / Obsada: Richard Dormer, Paulina Chapko, Wojciech Mecwaldowski, Andrzej Chyra, Dawid Ogrodnik, Agata Buzek, Piotr Głowacki, Jan Nowicki, Mateusz Kościukiewicz
Duration / Czas trwania: 82 min
Anita is trying to build a perfect family. She uses her power to create a better world. Her obsession with perfection leads to a tragedy. As per court order, she takes away the daughter of a pair of Polish immigrants. The parents stand powerless faced with the machine of bureaucracy. Desperate, they decide to act outside the law. Will they manage to save themselves in this dead end situation? The foster family fight for the love of their adopted daughter. All the protagonists of "Strange Heaven" act for the good of the 9-year-old Ula but she is the one who pays the price and becomes the victim of their best intentions. Extreme emotions. A clash of cultures. A question about the boundaries of intimacy in an abruptly changing world.
Director / Reżyseria: Dariusz Gajewski
Writers / Scenariusz: Dariusz Gajewski, Michał Godzic
Cast / Obsada: Agnieszka Grochowska, Bartłomiej Topa, Barbara Kubia, Ewa Fröling, Tanja Lorentzon, Gerhard Hoberstorfer, Jan Englert, Björn Kjellman
Duration / Czas trwania: 107 min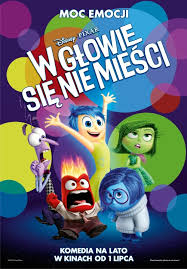 Growing up can be a bumpy road, and it's no exception for Riley, who is uprooted from her Midwest life when her father starts a new job in San Francisco. Like all of us, Riley is guided by her emotions - Joy, Fear, Anger, Disgust and Sadness. The emotions live in Headquarters, the control center inside Riley's mind, where they help advise her through everyday life. As Riley and her emotions struggle to adjust to a new life in San Francisco, turmoil ensues in Headquarters. Although Joy, Riley's main and most important emotion, tries to keep things positive, the emotions conflict on how best to navigate a new city, house and school.
This movie will be dubbed in Polish. NO ENGLISH SUBTITLES.
Director / Reżyseria: Pete Docter, Ronnie Del Carmen
Writer / Scenariusz: Pete Docter, Meg LeFauve, Josh Cooley
Cast / Obsada: Cezary Pazura, Kinga Preis, Małgorzata Socha, Maja Ostaszewska, Alicja Kozieja
Duration / Czas trwania: 94 min
Jacek hasn't seen his son for 18 years. Suddenly he turns up in the countryside to visit him. The film tells the story of two men who are too stubborn to patch things up and talk about their feelings. There are two people helping them achieve harmony : an energetic woman – Jacek's partner – and a small boy.
Director / Reżyseria: Aleksander Pietrzak
Writer / Scenariusz: Aleksander Pietrzak
Cast / Obsada: Marian Dziędziel, Ireneusz Kozioł, Wojciech Mecwaldowski, Dorota Pomykała, Jakub Muranowicz
Duration / Czas trwania: 48 min
"Generations" is a full-length documentary made for the anniversary of the Feature Film Studio (WFF). It is a story of contemporary Poland told using fragments of works created at the Studio. Out of the 450 titles made in Wrocław, Zaorski chose almost fifty. Their fragments, starting with Wajda's "A Generation", through the films by Chęciński, Has, Kutz, Polański to Holland, Kieślowski, Marczewski, Zanussi and many others, form a story about Poles from the times of the Nazi occupation, through the period of Stalinist terror, "our little stabilisation", March 1968, unfulfilled expectations of the Gierek era, martial law and up until the elections of 4th June 1989. The person guiding us around the contemporary Studio and Wrocław is… Zbyszek Cybulski.
Director/ Reżyseria Janusz Zaorski
Writer/ Scenariusz: Janusz Zaorski
Cast/Obsada: Łukasz Jaczewski
Duration/ Czas trwania: 100 min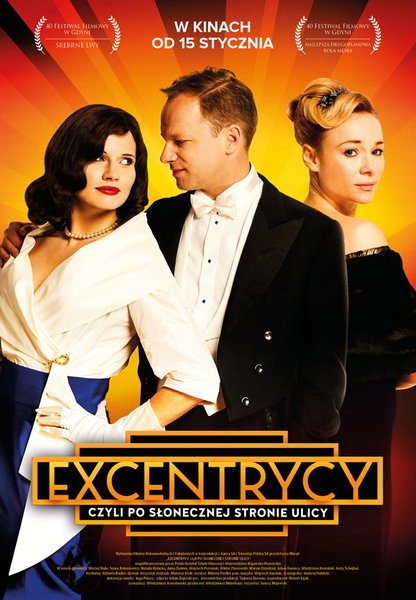 In the late '50s Fabian, a war immigrant, jazz trombonist and brilliant dancer, returns from England to his sister who lives in Ciechocinek. Together with a group of local eccentrics and amateur musicians he starts a swing big band.
After their first gig people's interest with the band surpasses all expectations. They receive loads of concert proposals and start to be popular. Fabian meets an intriguing, dark-haired Modesta and asks her to perform with his orchestra.
They soon become lovers. They are stylish, dance fantastically, go to the best restaurants and drive around Ciechocinek in a beautiful convertible brought over from England. They are like two colorful birds against the dreary reality. Their looks and behavior arouse a longing for freedom and prosperity. However, one day Modesta disappears.
Director / Reżyseria: Janusz Majewski
Writers / Scenariusz: Włodzimierz Kowalewski, Janusz Majewski
Cast / Obsada: Maciej Stuhr, Sonia Bohosiewicz, Natalia Rybicka, Anna Dymna, Wojciech Pszoniak, Wiktor Zborowski, Marian Dziędziel, Adam Ferency
Duration / Czas trwania: 112 min